Adventure Sports
Published on December 21st, 2012 | by Rachel Harrison
0
The 11 Greatest Races to Attempt in 2014
It's nearly time for New Year's Resolutions. Forget giving up chocolate or joining a gym that you'll never use, haul your ass out to one of the greatest races to attempt in 2014…
Empire State Building Run-Up, New York
So, you want to see the sights of New York? Well, might as well earn it. The New York Road Runners host this annual event giving you the chance to take on more than 600 other hardy souls determined to run up the 86 flights of stairs in this 102-story Manhattan icon.
Tough Mudder, various locations worldwide
Sometimes you want to test yourself, but travelling to the planet's most demanding environments is not always the most practical thing to do. Luckily, those generous souls at Tough Mudder bring the demanding environment to you, setting up British Special Forces-designed 12-mile obstacle courses around the UK and the world. Of course, you won't call them generous when you're crawling through mud, running through fire and swimming through ice.
Run For Your Lives, various USA locations
Sometimes running is boring. We all know it, even if you don't want to admit it. So, add some movie style drama to proceedings by evading zombies as you tackle this 5k obstacle course at locations across the US. Plus, you're greeted by beer when you cross the finish line.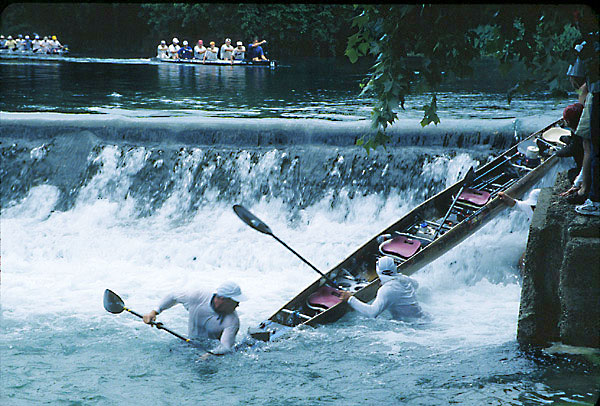 Texas Water Safari, Texas
Hailing itself as "the world's toughest canoe race," and for good reason. This 260 mile challenge will celebrate its 50th anniversary next June, with solo racers and teams of up to six paddling day and night and battling rapids, dams and…oh yeah, and the alligators, poisonous snakes and sharks, plus the exhaustion-fuelled hallucinations.
The Race Across Europe from Greenrock on Vimeo.
Race Across Europe, EuropeSick to death of Bradley Wiggins? Reckon you can show Sir Chris Hoy a thing or two? Well, forget the velodrome or just pedalling your way through France, you as well go the whole hog and cycle nearly 3,000 miles across Europe. The 2,933 mile route starts in Calais, and snakes its way through Germany, Austria, Slovenia, Spain and on to Gibraltar. This gruelling non-stop race returns for the third time in August and September.
The Iditarod Dog Sled Race – Alaska
You might want to take on a tough race, but you don't want to do all the work yourself. Instead, man's best friend is here to help. This dog sled race cruises through 1,150 of the most starkly beautiful and dramatic scenery Alaska has to offer. The constant yelping and yapping and the smell of dogs shitting endlessly may take you by surprise though.
6633 Extreme Winter Ultra Marathon – Canada
What's that, taking on extreme, frozen landscapes with the help of dogs is just lazy? Well, you might be right. In which case the 6633 Extreme Winter Ultra Marathon is the one for you. It must be tough as they've managed to get the words 'extreme' AND 'ultra' into the title. It does seem pretty tough though, to be fair. Either 120 miles (lazy) or 350 miles (better) of self-sufficient, non-stop running to the Arctic Circle. It takes place in March so you'd better get training.
The Death Race 2013 – Pittsfield, Vermont
You can't argue with a race that uses www.youmaydie.com as its domain name. Talk about a disclaimer. In fact, it's claimed that 90 per cent of people won't finish – not to say they will actually die – but the 48-hour obstacle course involves competing a variety of physical and mental challenges on land and in water. Crawling under barbed wire probably will be required but the route and challenges are kept secret so you never know what's coming.
The Global Scavenger Hunt – Worldwide
If 'visit other countries' is on your list of New Year's Resolutions, then tick off a bunch of them in one go with the Global Scavenger Hunt. The 9th edition of this hunt for the world's greatest travellers returns next year, with participants making their way from San Francisco to New York – the long way. This exclusive race is limited to 24 teams and runs from April 12 – May 4, taking in 10 counties which will be kept secret until the event.
Gumball 3000 – Denmark to Monaco
Endurance races are great and all, but sometimes don't you just want to see incredible places and enjoy the experience while having wild parties every night as well? The infamous Gumball 3000 rally ticks those boxes and will make you feel like a bit of a badass at the same time. Next year will be the 15th anniversary so there's no better time to try it as supercars and supermodels galore make their way from Copenhagen to Monte Carlo.
Rickshaw Challenge – India
From one extreme to the other in the glamour and speed stakes, but this is bound to be endless fun, just in a very different way. The line-up is more likely to be made up of wacky students rather than the high rolling celebs, and with a top speed of 60mph, your rickshaw will force you to really take in your scenery. Four races are planned for various routes through India in 2013 – and you just know each one will finish with one hell of a party.